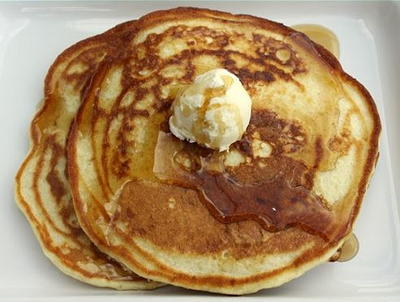 Amish Restaurant Breakfast Pancakes Recipe
Amish restaurants have the fluffiest pancakes. For the same delightful and delicious experience at home, here is the recipe used by one of Amish Country's best restaurants and in Amish homes everywhere.
Ingredients
2 cups flour (measured with spoon, not sifted*)
2 tsp. baking soda
1 tsp. salt
3 Tbsp. sugar
2 eggs
2⅓ cups low fat buttermilk (don't use anything above 1%)
butter for cooking
Instructions
Preheat a pancake griddle to 350. Peel the paper off of one end of a stick of butter and set on a plate next to the griddle for greasing.
Whisk eggs and buttermilk together in a medium bowl. Add flour, baking soda, salt, and sugar. Whisk just until combined.
Rub butter in a circle on the griddle and drop ½ cup of batter into the butter spot. As soon as the batter hits the griddle, level it out and smooth it quickly into a circle with your spoon.
The pancakes should be flipped when the 2nd bubble pops. This will take about two minutes on most griddles. Flip the pancake and cook on the second side until no longer doughy.
Every time you put new batter on the griddle you need to butter it again.
Pancakes should be served piping hot off the griddle. Stacking them up or holding them in an oven can cause them to lose the crunchy outside and / or become tough.
Be sure to use real maple syrup with your pancakes, not artificially flavored corn syrup, (yuk!).